The Barcode Food Junction on CDA Avenue in Panchlaish, Chattogram is packed with customers who come to enjoy the different cuisines on offer. The Mezbani meal is a particularly big draw as people come from all over to taste it. Photo: Rajib Raihan
">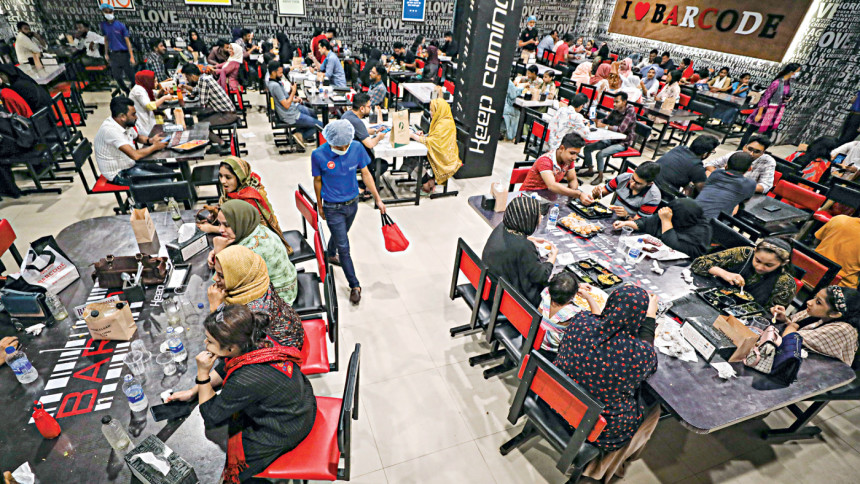 The Barcode Food Junction on CDA Avenue in Panchlaish, Chattogram is packed with customers who come to enjoy the different cuisines on offer. The Mezbani meal is a particularly big draw as people come from all over to taste it. Photo: Rajib Raihan
Mezban, a social festival in the southeast division of Chattogram, attracts not only locals but also people from other parts of the country.
Traditionally, the social feast is held to mark occasions such as death or birthday anniversaries and marriage. And many people other than Chattogram residents want to join the event to feel the heat of the festival.
Today it is possible.
Barcode Restaurant Group, based in Chattogram, has set up restaurants in the port city and the capital Dhaka to allow food lovers to enjoy the Mezbani meal, consisting mainly of steamed white rice and beef curry, without having to wait for the festival.
The journey began in 2015 from the country's largest port city and attracted guests within months of launch.
"Many of my friends often wanted to participate in Mezban and the idea behind opening a restaurant just for Mezbani food was born out of that," said Monjurul Hoque, founder of Barcode Restaurant Group.
Hoque first started with the Barcode cafe in the port city. Later, he decided to open a specialty restaurant named Mezzan Haile Aaiun so that people could celebrate Mezban every day of the week.
He initially started the business with Tk 30 lakh and seven employees, although the idea was not encouraged by his peers and family members.
Hoque said people were hesitant to visit the restaurant at first because they weren't sure if they would get the authentic taste of Mezban.
Locally called Mejjan, the festival is most popular and widely practiced in the Chattogram region, but is well known across the country, according to Banglapedia.
And over the past seven years, Barcode has grown the number of outlets to nine, including five in Chattogram and four in Dhaka. Additionally, Barcode opened a branch of Mezzan in the United Arab Emirates.
Hoque wants to increase the number of outlets to 15 by 2024, with Cox's Bazar and Sylhet being the next two destinations for Mezzan.
"We want to expand Mezzan all over the country," he said.
Apart from offering the popular Mezbani food, Barcode has opened another restaurant named Bir Chattala, where it serves traditional Bengali dishes such as rice, pulses and curries in an ambiance of local culture and tradition.
Barcode has two traditional Bengali food outlets to serve customers in the port city.
Additionally, he opened another restaurant called Omerta to serve foodies who want to try Korean, Italian, Chinese, and Japanese cuisine.
And a branch of all these outlets is available at one point i.e. Food Junction where foodies can taste different dishes including subcontinental foods.
Barcode currently has a staff of over 500 employees serving over 2,000 guests daily, up from nearly 300 guests in the restaurant's first days.