Meet the winner of the Daily Point of Light Award Paul Kolze. Read their story and nominate an exceptional volunteer or family as a daily point of light.
54-year-old retired restaurant manager Paul Kolze has spent 40 years feeding others. Sometimes operating up to 30 locations at a time, he knows the ins and outs of restaurants and bars at airports nationwide.
Now, he's transitioned from office work to kitchen work as he turns his lifelong passion for cooking into a valuable service for his fellow Warrior Canine Connection (WCC) volunteers and supporters. WCC trains service dogs and connects them with veterans with issues resulting from trauma suffered while serving. Paul serves delicious food for events and, along with his wife, has raised six dogs to serve men and women who need help after returning from conflict.
What inspires you to volunteer?
In the restaurant industry. I never had much time to give back to the community. My wife was a teacher, she retired and founded this organization. She started talking to a lady with a dog at Target one day and got involved with WCC. And so, of course, it became a partnership with both of us. We have a dog. The kitchen came later. I will use any reason as an excuse to cook.
Describe your volunteer role with Warrior Canine Connection (WCC).
A friend and I smoked a 60 pound pig and fed 60 volunteers three sides this weekend. I do all kinds of cooking for them. For all the staff, I make birthday desserts for each of their birthdays. And when they need catering, so do I.
I am also a parent of a puppy. My wife and I breed and train dogs for veterans with mobility issues and PTSD. We go there every week to train and then reinforce it at home. Our first two dogs have been released from the program. We couldn't be trained. The other was rejected for keeping her food when other dogs approached during meals.
Our third dog, JJ, has been very successful. He is now working with a Pentagon veteran who lost both legs in the war. So he goes to the Pentagon every day, helping him through life. My wife is now a service dog for a veteran in Baltimore. I've spent the past two years training one of JJ's sons, Ruck, who was recently placed with an Ohio veteran who suffers from PTSD. He is doing very well. Each of them is like a child with a different personality.
How is keeping a service dog different from a regular pet?
Only about a third of them pass the program. They look for good behavior. They don't jump on you or bark. They only go to the toilets where they are supposed to go. By the time they are done, they may know 80 commands. These dogs can open doors, retrieve a bottle of water from the fridge, grab a phone or a bunch of keys. They can turn lights on and off. Some are trained in mobility. If the veteran is in a wheelchair, the dog will assist in pulling or act as a splint to help them out of the chair.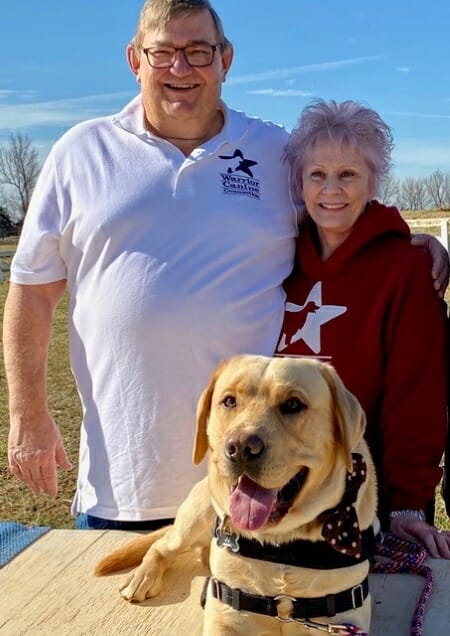 Veterans with PTSD or other psychological issues often tap their feet or hands, showing signs of stress. Our dogs are trained to disrupt this behavior. They will put themselves in the face so that they stop. Dogs divert attention from everything they do or think. Some people have trouble getting out of bed. When you have a dog, you have to get up to take it out. You have to feed them. Thus, they focus on the dogs and not on themselves. This is where we have had great success.
What has been the most rewarding part of your job?
There are so many people who need it, and it takes two years to train a dog. It's always hard to give away a dog, but once you see how they can change a veteran's life, it's amazing. It's worth every effort.
What have you learned from your experiences as a volunteer?
Patience. In the catering industry, everything is moving quite quickly. With a dog, you have to slow down and repeat things. It's a bit like raising a child. You have to be very patient, very positive. The people I work with and other puppy parents are great too. It's just a wonderful organization.
Are there any future partnerships, programs or events that you are excited about?
Every September, we have a graduation program with any dog ​​that has successfully completed the program is celebrated with veterans. In October, we organize an education and agility day for dogs. My friend, also a puppy parent, and I are cooking for an educational event to teach puppy parents about dog health. And in November, we sell pies as a fundraiser – apple, cherry, bourbon-pecan – for Thanksgiving. We sold over 108 pies last year. It's quite a production.
Why do you think it is important for others to give back?
I think most people are luckier than they can imagine. And I think we, as a society, owe it to other people who are less fortunate than us, those who struggle. I think if everyone gave a little, we could do a lot.
What do you want people to learn from your story?
I hope people will understand how dogs can help veterans and non-veterans. And to give back in any way possible. I'm a cook. That's what I like to do. Everyone has something they are passionate about and they can find places to volunteer using that passion. It does not become a job. It is a joy to help others.
Want to make a difference in your community like Paul? Find local volunteer opportunities.